Kathakali
Kathakali School offers courses in various art forms taught by experienced and dedicated masters who are invested in their areas of art.
The Quintessential Artform
Kathakali (literally, story play), the spectacular classical dance drama of Kerala based on the guidelines laid by Sage Bharatha's Natya Sastra, the ancient treatise on dance and drama, is over 500 years old. This elaborate art form integrates dance, music, poetry and histrionics. And combines both the thandava (powerful energetic dance, as that of Shiva) and lasya (gentle graceful dance, as that of Parvathi) element.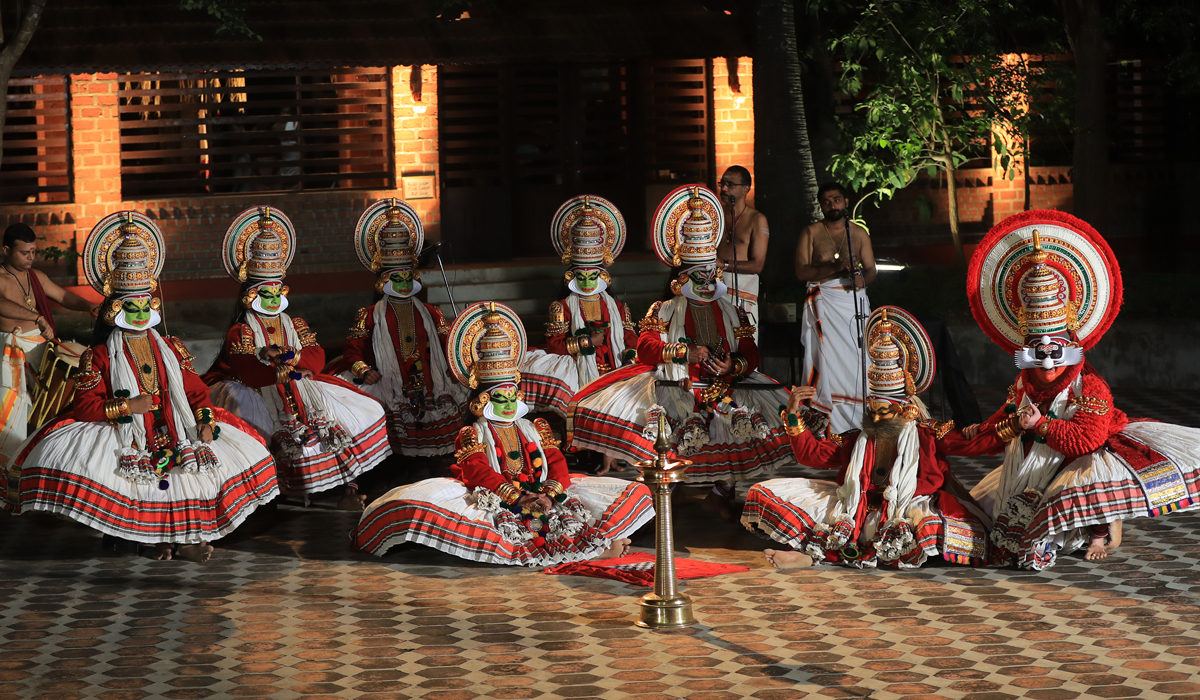 The essence of Kathakali
Abhinya (expression) is the heart of Kathakali, especially abarya abhinaya. Make-up is used not merely to enable the spectator to visualize the character's appearance but also to indicate the nature and personality of the character being represented. Netrabhinaya (abhinaya through the eyes) is important in Kathakali and chundapoovu or Solanum pubesscuce is applied to the eyes to redden and draw attention to them
Different hues, different personae
There is in Kathakali a recognized convention regarding vesham which includes make-up and costume. Vesham is classified into four, viz., thecha vesham (painted make-up) and minukku vesham (polished make-up). Thecha is again subdivided into pacha vesham (green) which represents morally excellent characters and kathivesham (knife) representing evil characters. Thaadi too has its subdivisions - vella (white), chuvanna (red) and karutha (black) - each colour standing for a certain type of character. Kari vesham represents she-demons and minukku represents gentleness and spiritual qualities.
Where emotions flow from the hands and face
Actors do not speak or sing, but enact dialogic sections called padams through mudras (hand gestures and facial expressions. There are 24 mudras in Kathakali which express the nine rasas or emotions viz., serenity, wonder, kindness, love, valour, fear, contempt, loathing and anger.
The backdrop
The stage for Kathakali is bare, except for a lamp with drummers and singers standing on either side. Music is in the sopanam style which is the classical mode of singing in Kerala with two vocalists (small cymbals), chenda and maddalam (drums). The themes of this awe-inspiring art are taken from India's rich and colourful mythology.
Mudras (Hand Gestures)
The communication among the characters and to the audience, is through an intricate language of hand gestures, used in combination with facial expression and body movements. Kathakali follows the language of Mudras, as described in "Hasthalakshana Deepika".